Disclaimer: Lava 3 is currently "End-Game" content. Certain heroes are required. There can be no substitutions for these heroes.

Required Heroes:
Arctica x2 (preferably with revite5 talent
Double Evolved SK with Revite Crest
Treantaur with Revive
Ice Demon (must be 7/10 or higher and level 140+) Revive Crest

The Strategy
The strategy is to use global proc heroes to kill the other 3 demons while fighting the demon in the starting corner. In the experience I have had running this, we always finished with less than 30 seconds left on the timer, so the damage requirement is pretty high.
Best Global Proc Heroes: SM, PK, DD, GR, WL, Aries
Use your highest leveled heroes from that list. You can substitute any global proc hero for another. Just use whichever is highest level or more beneficial.
It is highly advisable to use revive crest on all global proc heroes.

The Setup
You will be positioning your heroes in one of the spots numbered 1-4. We start on this right corner because this is the easier of the 4 demons at each corner. The other 3 demons have Deflect/Stun/etc abilities. The idea is to kill the other 3 demons while you are fighting the one in the starting corner. The number of the slot directly correlates with the team you will need to have.





Team 1
This is your middle spot team and will be taking the most amount of damage at the beginning of the fight. It is highly advisable to have a full double evolved team in this spot. If this team dies, you will fail. SK and Ghoulem should have a revite crest set on. The rest should have Revives.

Heroes: SK, SM, DD, PK, Ghoulem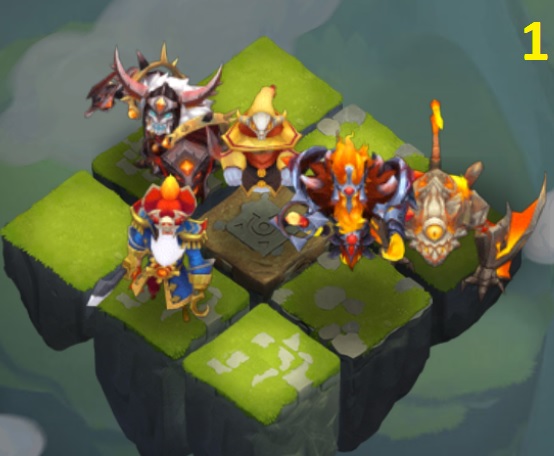 Team 2
This team will take some hits from the middle heroes as well as the starting corner at the beginning. Arctica is needed to get rid of the demon's buff. Arc, Ghoulem, and Val are best with Revites, referably crests for Ghoulem. Val and Arc should have revite5 as a talent.

Heroes: Arctica, Val, Ghoulem, GR, PD




Team 3
Again, you need Arctica to get rid of the buff off the demon. Arctica should have Revite5 talent and Ghoulem should have a Revite 3 or higher crested. Revives on everyone else.

Heroes: Arctica, PK, SM, PD, Ghoulem




Team 4
Team 4 is a special team. Treantaur MUST have Revive either as a talent or crest. You will also notice the use of Ice Demon. This is a required hero because at 7/10, he hits 18 targets with a 60% slow. This is needed for the beginning when all the other heroes are still alive as well as later on when its just the other 3 demons. This slow lasts 12 secs and does not have a cooldown. All heroes should have revive crests if it is not talented.
Ice Demon MUST be 7/10 or higher skill and be level 140+. We use a 160 Ice Demon and he still gets one shot often. Level 140 is absolutely minimum.

Heroes: Ice Demon, Treantaur, PK, GR, SM




There are other methods and strategies to do Lava3 but I found this to be the most successful. You will need very high level heroes that are evolved and double evolved to do this. Please take note of the positions of each of the heroes. If you deviate from this configuration, your chances of success will be limited. All crests, Talents, and Artifacts can be swapped out to fit your needs.

It is highly advisable to use revive crest on all global proc heroes.



I hope this guide helps people.
I would also like to give credit for this strategy to Naugg, Afraz, Treamer, and Snoopy. Without them, this would not have been possible. Thank you guys very much for your hard work and patience coming up with this strategy.
Signature
253,000+ Might
All Buildings Maxed
Have all Legendary Heroes
31x level200 Devo Heroes
16x 10* Evo Heroes
"F2P takes too long."